Our 30 Days – $30,000 Ramadan Donation Goal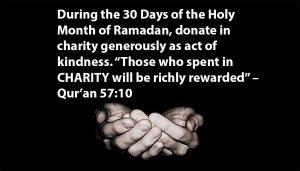 Help Build our Masjid and Community Center
This was before start of Parking lot Construction
Current Parking lot Construction
NASFAT Atlanta Masjid current Parking Lot
We have collected $1,210.00 of our $30,000.00 target. It is 4.03% of our goal for the Ramadan 30 Days of Giving - $30,000 of Fundraising Goal campaign
How It Works:
Starting on May 27, 2017, if 100 people give $10 each every day in the holy month of Ramadan, will have $1,000 per day. Or you can give $10 a day or $70 a week or $300 a month and in 30 days, we will reach our goal of $30,000. Every day you will receive an email of the donation update, please help us support the project with a donation.
The Hadith of the Prophet (PBUH) said; "Whoever builds for Allah a Majid, seeking with it the face of Allah; Allah will reward him or her with similar in paradise" reported by Imam Bukhari and Imam Muslim.
"Those who spend of their goods (in charity) by night and by day in secret and public shall have their reward with their Lord: on them shall be no fear nor shall they grieve" Surah Baqrah 2:274.
Donations of any amount are accepted. Please use the button below to make a donation using your credit card. Please note you will be redirected to paypal to process this transaction. Please click the return to merchant link to return to atlnasfat.org upon completion of your donation.
Donate generously
Join the Momentum!
Share on with friends, family and Facebook/Twitter.
For more information or assistance about online donation, contact us directly or call phone number at 770-381-0888
NASFAT Atlanta is recognized and registered under 501(c)(3) as a non-profit charity organization. Our Tax ID is 55-0839783.
Jazakah Allah Khairen.